Leak Detection and Repair (LDAR) and Fugitive Emissions Detection
Industrial chemical leaks and fugitive emissions are a threat to both personnel and surrounding communities. Block Engineering's LaserWarn is an open-path chemical detection system designed to identify these chemicals in Leak Detection and Repair (LDAR) and toxic gas detection applications.
A single LaserWarn can monitor a wide area of thousands of square meters within chemical and petrochemical plants, refineries, and other industrial settings. A 300 meter linear path around the perimeter of a facility can be continuously monitored for fugitive emissions and Toxic Industrial Chemicals (TICs).
Powered by eye-safe quantum cascade lasers, LaserWarn detects multiple target chemicals within seconds. Unlike point sensor networks, LaserWarn allows for detection at a distance, enabling a rapid response to accidental chemical releases.
LaserWarn is available in a ruggedized, water/dust-resistant IP66-certified version for outdoor or harsh environments, or a standard configuration for indoor or portable use.
The new AI machine learning-powered software is able to detect multiple chemicals in real time, even in chemically "noisy" environments. Chemical libraries can be customized for specific applications. The LaserWarn can detect:
SOCMI emissions, including MDI, ethylene, and methanol
Refinery gases, including benzene, C1-C5, aniline, and naptha
Polymer precursors such as styrene, vinyl chloride, ethylene, propylene, isocyanates, 1,2-Dichloroethane, and ethyl benzene
Ammonia
As well as many other chemicals, including acrylonitrile, 1,3-butadiene, tolulene, chlorinated benzenes, chlorofluorcarbons, ethylene oxide, phosgene, formaldehyde, toluene di-isocyanate, 1,4-Dioxane, p-xylene, and others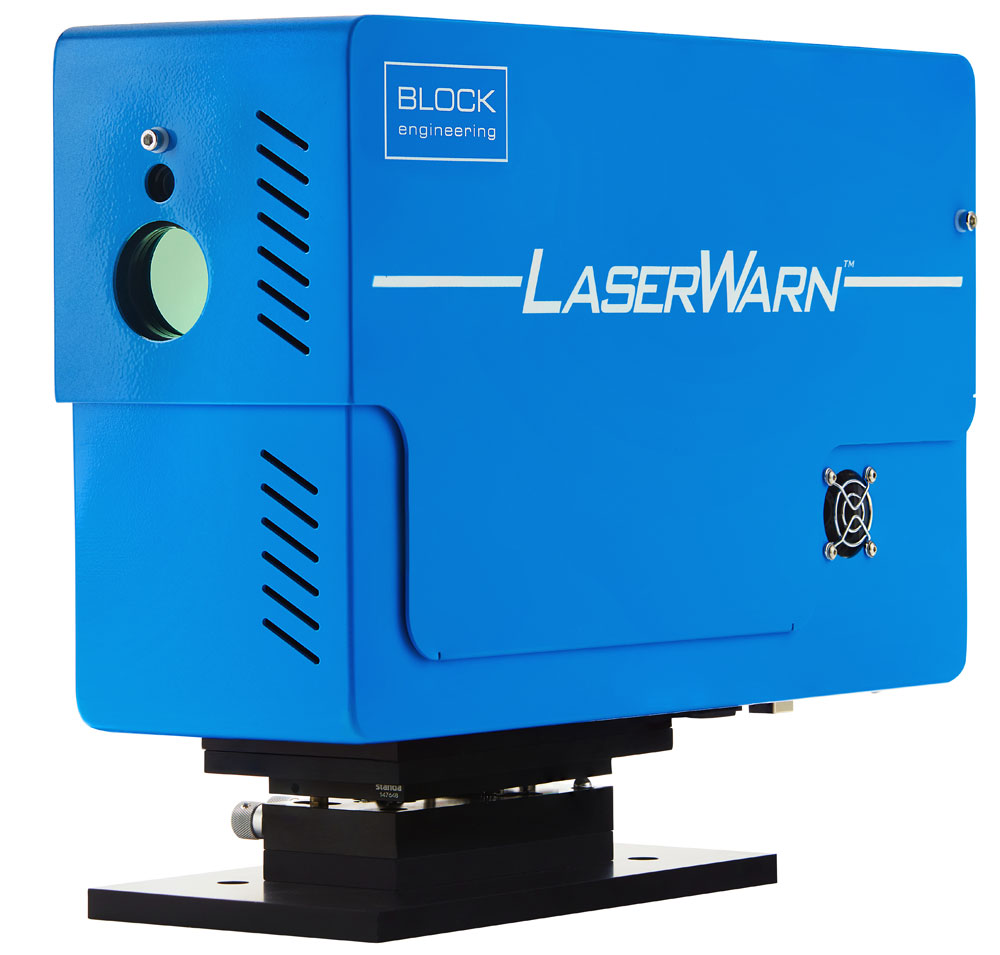 The eye-safe lasers in the LaserWarn system allow for mounting in areas where workers or other people will be present. The system continually scans for gases that cross the laser beam path, and triggers alarms when target chemicals are detected.
Compared to traditional infrared and FTIR technology, Block's Quantum Cascade Laser-based system offers significant improvements in response time, pointing accuracy, detection distance, and chemical sensitivity.
Product Demonstration Video:
If you would like to discuss how the LaserWarn can help with your application needs, please contact us.